Parker 51
The Parker 51 went into production in 1941, and remained a best-seller for decades thereafter. The majority of examples in circulation, however, date from the later '40s and '50s.
Perhaps no other fountain pen has been so unanimously acclaimed as a classic. Nor is it merely a triumph of styling -- though it has a place in the Museum of Modern Art's design collection, and Lazlo Moholy-Nagy found it worthy of praise -- for it is also one of the most robust and practical writing instruments ever made.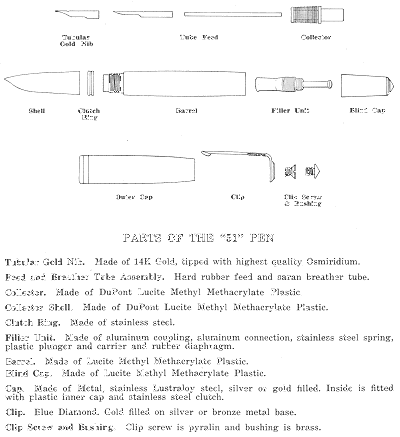 Design changes were relatively few. First-year examples, such as the pen above, had a number of distinctive features, including "jewels" at both the cap top and barrel end (more on first-years); from then through 1948, pens could be single- or double-jeweled -- though double-jewel pens postdating 1946 are very much the exception. The sectional view below comes from a Parker repair manual from 1947.

In 1947 the arrow clip was simplified, eliminating the earlier Blue Diamond mark (for the simplified clip, see the image at the top of the page), and at the end of 1948 the filling system was changed from a pump ("Vacumatic", as seen above) to a squeeze-bulb ("Aerometric") with a transparent "Pli-Glass" sac (see photo below). While the earlier filler had the larger ink capacity, the Aerometric was simpler and more robust, with a more intuitive mode of filling and a special vented breather tube to reduce the likelihood of leakage during flight. All Aerometric pens were single-jeweled. Although the "Pli-Glass" material has often been identified as nylon, it has recently been established that these sacs were in fact made of PVC.

A short model, known as the Demi, was introduced shortly before the Vacumatic filler was phased out. Aerometric Demis are slightly longer than Vac-filler Demis. The 51 Special was a later addition to the line, an economy version without a gold nib and with a simplified Aerometric filler mechanism. Specials also usually have caps that are polished bright rather than frosted, and a cap jewel that is black, not pearlescent.
Other notable members of the 51 series were the Flighter (cap and barrel in stainless steel), Signet (gold filled cap and barrel), Heritage (solid 14K gold trim), Heirloom (solid 14K gold cap and trim), and Presidential (solid gold cap and barrel). Sterling silver and coin silver caps were also available, but were discontinued before the introduction of the simplified arrow clip and Aerometric filler. Demonstrators in clear lucite were made for dealer use, but not sold to the general public. 51s were also produced in Canada and England; distinctively English are the Aerometrics with caps in rolled silver, along with those with rolled silver caps and barrels (watch for fakes: if the barrel is not marked "ROLLED SILVER", it is almost certainly a gold filled barrel that has been plated). Parker also made 51s in South America, at its Argentinian factory.
Matching pencils and desk sets were offered throughout the 51's production run. In 1955, a matching 51 Jotter ballpoint was introduced, along with the so-called Liquid Lead pencil -- a nonretractable ballpoint using a graphite slurry. Current Parker ballpoint refills fit the 51 Jotters, but the Liquid Lead refills (which never worked well) are no longer available.
---
PARKER 51 TO SOLD
| | | | | |
| --- | --- | --- | --- | --- |
| PARKER 51 | GOLD METAL | YEAR 1978 | 700 $ | 850 € |